If you are like me, when you started looking into the idea of getting a super automatic espresso machine you had NO IDEA what you were getting into. 4 years later and I still learn new things everyday. But one thing I wanted to learn early was the ideal at home barista setup. And no, the best way to get coffee shop quality coffee is not to buy a big commercial espresso machine. All it takes is a good quality Super automatic espresso machine and some good beans. Here is our list of ideal beans. 
However, as you probably found, Super Automatic Espresso Machines are not cheap. You certainly have to consider it an investment and a way to hopefully save some money on those daily coffees you cant function without. 
Because it is a big purchase, I want you to be as well-educated as possible. So I took the time to break down, in my opinion, the best Super automatic espresso machines, based on quality, value/price, and features. Below is a quick look at our top 5 machines. Keep scrolling for a further in-depth review of each Espresso machine.
Just so you know, some of the links in this post may be affiliate links meaning we might get a small commission, this helps us keep our content free and high quality 🙂 Enjoy!
High Quality/ reputable company
Huge 66oz water tank
Milk frother
Coffee, Espresso, Cappuccinos
Sleek Design
1 year warranty
Big 3.5 inch touchscreen display
Smart Phone compatible
16 preprogrammed drinks
A lot of features
1 year warranty
Brad Pitt Loves it
Mid price point
Sleek design
User friendly 
Milk frother
Moderate customization options
2 Year warranty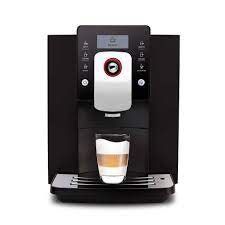 True "one touch" option
Mid price point
Easy cleaning and maintenance
Sleek design, modern
1 Year warranty
Best Value product 
Cappuccino wand
Great first timer machine
Easy to clean
2 year warranty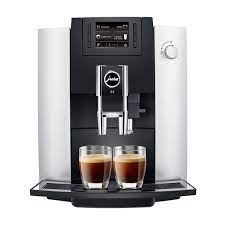 The Jura E6 is a great middle of the road espresso machine. You're getting most of the features that people consider essential, Cappuccinos, espresso, and regular coffee. High quality "Aroma G3" grinder that is standard in all Juras. It comes with an integrated milk system to make cappuccinos without ever moving your cup. However it does not come with a milk jug, which at this price point is a little disappointing. However, with Jura you are paying for the warranty, established company and quality. Jura has always had a relatively simple cleaning processes. The machine tells you when any of these maintenance programs are necessary. It also runs a rinse cycle to quickly clean the machine and has a removable drip tray.
Final decision- Ultimately deciding whether the Jura E6 is right for you is going to come down to what you want out of an espresso machine. If you are looking for a lot of different specialty coffee options and you are on a budget, this is not the machine for you. However if you are looking for a quality machine that is built to last, looks nice, and makes your coffees and espressos with the occasional cappuccino? Then this might be for you. Juras are built to last. So if this machine checks all your boxes and you are ready to settle down and spend the rest of time with the same espresso machine. The Jura E6 is likely the best choice for you.
I do personally use a Jura, the list of great machines by them is long, I suggest checking out this article "Best Jura Coffee Machine in 2023" to really learn about Jura. 
Cons- Lacks specialty drink options, higher end of the price point.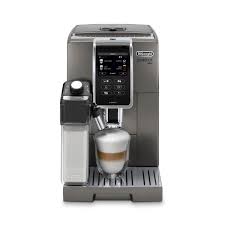 De'Longhi has been a prominent European company. The Dinamica Plus has been there holy grail for some time now. The people at DeLonghi have been very attentive to their customer base, the people wanted a milk frothing system and digital touchscreen display for the united states model. So that is what they did. 
The Dinamica Plus is in my opinion (For the U.S.) the latest "Girl Next Door" if you will. With the massive 3.5 inch touchscreen it is like operating a smart phone. The Coffee Link App was added to customize recipes and profiles on your phone. The milk frothing system made a very user friendly design so you can store your milk container in the fridge when not using it and simply plug it in when you are ready to make your coffee. When it comes to milk based drinks, the touchscreen display comes pre programmed with SIXTEEN different drink recipes. It's like having a barista at your fingertips. Cappuccinos, Lattes, macchiatos, espressos, you name it. One of my favorite things about this coffee machine is that you can save user profiles. So when you customize a recipe exactly how you want it, you can save it. There is also a "Pot function" essentially it allows you to make 6 cups of coffee in one brew. Aside from all of this, the Dinamica Plus made the rest of the process effortless. No complaints as far as cleaning, maintenance, filling water, bean hopper, etc. 
Since I wrote this article, the price has gone up slightly but I still consider this the best feature packed espresso machine on the market. Which as a long time Jura fan is a hard pill to swallow, but when it comes down to it De'Longhi really hit it out of the park with this one.
Cons- Slightly higher price point but with this machine you are stepping into a new level of espresso maker. Comparing it to the most comparable Jura E8, the price is very reasonable.

The CM5 models from Miele are great machines from an established brand. It has a touch screen display, with preset espresso, coffee, cappuccino, and Latte macchiato. The menu gives you more options as well. The Miele CM5300 can control milk temperature and milk froth. It has an adjustable nozzle height as well for different size cups.
The milk frother is a flexible tube that plugs into the side of the spout and is fed into a milk container for drinks that need frothing. One big downside in my opinion is that you have to buy the milk container separately, but thats not saying you cant just use a milk jug. It just wont be as "Chic"
It comes with a water reservoir that is 1.3 liters, that it also uses for a self cleaning feature which is great, but it does run out rather quickly if there is more than one person in the house using it.
Aside from a few minor flaws the usability of the CM5300 is great. The screen is very responsive, it self cleans and lets you know when maintenance is required, when the tray needs emptying, when more beans are needed or when the water needs to be filled. Filling everything and cleaning everything is very user friendly, everything is dishwasher safe and anything that needs to be cleaned is easily removable.
I would consider this unit very similar to the Kalerm model below. Similar price point, similar usability and customization. But I wanted to ensure there was more than one middle of the road option to think about. And in my opinion, this is a good one.
Cons- While the espresso taste is great, the frothing system could use some improvements, the froth is more foamy than silky. Making it difficult to give you that glossy finish to your latte or cappuccinos.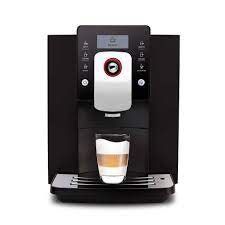 The Kalerm 1601 Premium is a super automatic espresso machine that I was skeptical to include in my list for a number of reasons. The biggest is that I have no personal experience with this machine so I don't prefer to give my opinion. But after I got sucked in and ended up doing hours of research on this machine it caught my interest. So I found someone via reddit that actually uses this exact model and I had a quick chat with them. So, the following is going to be what I found in my research and what they had to say from their actual experience. 
Kalerm is a newer company out of shanghai that sells machines in over 40 different countries now. So they are growing quickly but in terms of espresso machine companies they are very young, they have roughly 11 years in business. But don't let their youth fool you. They have thousands of happy customers and very minimal problems or complaints. The support team is very attentive and fast to get back to you with any questions should anything go wrong. 
More about the actual machine. This machine is most well known for it's patented "One Push" drinks. Capable of making Espresso, Americano, lattes and cappuccinos all in one push of a button is a huge pro for multitaskers who are usually in a rush in the morning. It also can dispense hot water. While 4 pre programmed drinks may be deceiving, each drink is fully customizable. So versatility is more impressive than suspected. It does have a small touchscreen and a rotary dial. You can adjust the grind, coffee strength, water temperature, coffee volume, milk volume, milk temperature and milk texture.

This machine makes cleaning very simple like most super automatic espresso machine, it has an automatic cleaning cycle each time it is on and off, similar to the jura. The screen is smart enough to display to you when water needs to be filled, or the coffee pucks need to be emptied so you don't have to remember this. As far as one touch espresso machines go I think this is a great value from a great up and coming company. With the espresso machine space being so ruled by a set few companies I love to see a new underdog coming up. I think the value for it is part of why it is becoming popular so quickly. 
The main reason I would urge you against buying the Kalerm KLM 1601 is if you want a lot of involvement in making your espresso. This is certainly geared towards the "In a hurry" One touch crowd. So this can be a pro or a con 🙂
Additionally checkout this youtube video for a nice representation of this super automatic espresso machine.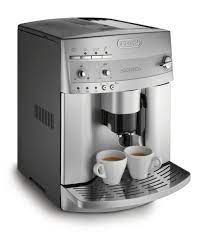 The De'Longhi ESAM3300 is not an espresso machine you will see often on a "Best of" List like this. However when I stumbled across this machine a few months ago I was ecstatic to include it for a few reasons. But the biggest one is because it is a great entry level espresso machine that still has some fun features for you to try out. 
The ESAM3300 is a super automatic espresso machine and has been a best seller for the past two decades. It is the perfect espresso machine to dip your toes in the water without breaking the bank. There are tons of pros for this machine, with very few cons. It features a dual boiler for high quality espresso, Steam wand for cappuccino foam, adjustable pour spout, automatic grinder, 33oz water tank and even a cup warmer; some of the $1500+ machines don't even have a cup warmer! 
But as you can expect from a lower price point, the components are all plastic so you will need to be cautious cleaning, as it can scratch easily. Maintaining properly will also be very important as the parts are less likely to withstand the wear and tear that a higher end model would.
It has a very straightforward control panel, a button for hot water, and two dials to choose coffee strength and size. It does have lights that alert you when you need to add water, empty the coffee pucks, or descale the machine. 
For an espresso machine priced well under $1,000 it is a great value. You sacrifice a few options that the higher end machines have but finding a machine that does all of this at this price point is next to impossible. So if you are still unsure about your love for coffee, and are just looking to test the waters. This is the route for you.
Cons- The obvious con is going to be quality of material. It may not withstand as much use as a higher end model. But you are getting more than you pay for in my opinion. Aside from that, the grinder is a little noisy, which can be very frustrating for someone with a sleeping baby or partner they don't want to wake.
Now if you made it this far, 1. Congrats, hopefully you now have more knowledge on these espresso machines than you will ever need and 2. Do not over think it.
I know this is a huge investment, and I make these articles to try and make the decision easier. So with that being said, any one of these super automatic espresso machines will be absolutely fantastic and I can almost promise you will not be disappointed. A few of the biggest factors to think about when making a decision. What do you want to do with your machine? What are you looking for? I often relate picking an Espresso Machine to looking for a significant other. What do you want out of this relationship? Do you want espresso and black coffee? Or do you want to be able to push a button and have a beautiful foamy latte 2 minutes later? (The Kalerma 1601 does this) 
Are you looking for an espresso machine that will look the best on your counter? Perhaps the Jura E6 is for you. 
Whatever decision you make, I hope this made it at least a little bit easier on you. Thank you so much for reading! Don't forget to check out our other articles on the best beans for your super automatic espresso machine, as well as the best storage techniques!