I'm an espresso lover, so I know that only the Delonghi machine can satisfy my taste. So, here I came up with the best Delonghi espresso machines that can satisfy your taste too. 
Being a barista, working all day with espresso machines, I came up with the result of these 5 best Delonghi espresso machines. Though all the machines have different specs and I know you might be short of time. 
So here are my quick two recommendations: 
For Commercial Purposes: De'Longhi ESAM3300 Magnifica
If you're a Beginner: De'Longhi ECP3420 Espresso Machine
After testing out multiple machines in my cafe, I came up with only these 5 best options. So, if you really care about your money, this review is really gonna help you to choose the best. 
Quick List of Best Delonghi Espresso Machines
5 Best Delonghi Espresso Machines Reviews
It's common for many of us to care about our money, and don't want to spend a lot. That's why I put this machine on top because it's cheap and best for a single person or a small family. 
This De'Longhi espresso and cappuccino machine is a great choice for coffee enthusiasts. The machine has a milk frother, which makes it easy to prepare lattes and cappuccinos. It's also programmable, so you can set it to your preferred settings. Plus, the removable tank allows for easy refilling and cleaning.
The machine has 15-bar pressure that ensures rich, consistent flavor, while the single or double shot option lets you customize your drink. 
The manual frother also allows you to make your own creamy foam for cappuccinos and lattes. The Advanced Cappuccino System creates perfectly layered drinks with a thick, rich crema on top. And with the adjustable controls, you can customize the strength and temperature of your drink to get exactly what you want.
This De'Longhi espresso machine has a three-in-one filter holder, so you can use ground coffee, pods, or capsules. A built-in water filter ensures that you always enjoy great-tasting espresso. Plus, the instant brew feature maintains freshness. The taller cups can be accommodated by adjusting or removing the bottom tray of the unit.
The De'Longhi Bar Pump Espresso Machine has a sleek profile that will fit in any kitchen. The machine has a removable water tank with visible water levels, so you can always keep track of how much liquid is left. The machine is also dishwasher safe, making it easy to clean. The compact design of the machine fits well in small kitchens.
Our Verdict
Overall, the De'Longhi ECP3420 is worth a look. This bar pump espresso machine features a durable stainless steel boiler and a built-in crema device that helps you create rich, creamy espresso with little effort. 
With its compact size, the machine can be placed on any countertop, although it does require manual operation. So you'll have to do everything yourself. It also has plastic parts, which some users may find disappointing. But overall, the De'Longhi ECP3420 is an affordable and user-friendly option for coffee lovers everywhere.
If you're looking for a top-of-the-line espresso machine that will satisfy even the most discerning coffee lover, look no further than the De'Longhi EC9155MB La Specialista Arte Espresso Machine. 
This beautifully designed machine features a stainless steel and black finish and has a capacity of 56 fluid ounces. But the real star of the show is the machine's milk frother, which lets you create creamy, luxurious lattes and cappuccinos with ease. 
The De'Longhi EC9155MB La Specialista features an intuitive grinding system that ensures consistent results each time, as well as eight precise settings to give you complete control over your brew. 
Moreover, you can customize your drink's temperature using three settings. The included LatteArt steam wand also lets you create beautiful lattes and cappuccinos with ease.
The De'Longhi EC9155MB is incredibly easy-to-use, thanks to dishwasher-safe parts. The EC9155MB also comes with three preset recipes that take the guesswork out of making a great cup of espresso. 
Additionally, the machine includes manual tamp tools to help you achieve the perfect extraction pressure for your coffee. Best of all, the EC9155MB's compact design fits perfectly into small kitchens.
Our Verdict
Overall, The De'Longhi EC9155MB La Specialista Arte Espresso Machine is a compact and efficient machine that is perfect for any coffee lover. It has three pre-set options that make it easy to create the perfect cup of espresso, and it also has the added bonus of latte art. 
Although it is made of plastic material, it is surprisingly durable and should last for years with proper care. One downside, however, is that it does not have a digital user interface, which can make it difficult to fine-tune the machine's settings. 
However, overall this machine is a great value for the price and is sure to please anyone who loves a good cup of espresso.
The De'Longhi Stilosa Espresso Machine is the perfect addition to any coffee lover's kitchen. It brews lattes, cappuccinos, and espressos with ease, and its compact design makes it a perfect fit for even the smallest of kitchens. 
The best part is its affordability, which makes it an excellent choice for anyone who enjoys coffee. Plus, its easy-to-clean design ensures great-tasting coffee every time.
The Stilosa comes with a 15 BAR pump that creates rich, velvety espresso shots. It's also capable of brewing double shots, which means there will be enough coffee to go around. 
The machine also includes a manual milk frother, which allows you to customize your milk drinks to your own specifications. Plus, the Stilosa looks great in any kitchen thanks to its sleek, minimalist design.
This Stilosa espresso machine has a  stainless steel boiler that is durable and long-lasting.
The machine is also equipped with a portafilter and two filters, so you can start making your favorite drinks right away. The machine also has a handy cup holder that can accommodate two cups at once, making it easy to serve multiple people at once.
Our Verdict
Overall, the DeLonghi Stilosa Espresso Machine offers great value for beginners. It has a sleek, contemporary design and features everything an espresso maker needs. 
You can create a smooth texture for your milk with the included frother, and the machine is built to last with durable construction. Plus, it's budget-friendly and perfect for those new to espresso.
However, there is one downside: this machine does not have an auto shut-off feature, so you'll need to be careful not to leave it on accidentally. It's also not meant for commercial use.
The De'Longhi Magnifica ESAM3300 Super Automatic Espresso Machine has many great benefits. The machine has an integrated coffee grinder which lets you grind your own coffee beans right before brewing. This ensures that your coffee is as fresh as possible.
The machine also has a milk frother which froths the milk to perfection for a creamy, delicious cup of cappuccino or latte. And for added convenience, the machine features an auto-clean function that cleans all of the internal parts of the machine after each use.
The De'Longhi ESAM3300 Magnifica has a burr grinder with 13 adjustable settings. That means that you can customize your grind to make every cup of coffee perfect. 
The machine is also equipped with a maximum freshness system which keeps your coffee tasting great for longer. Additionally, the manual frother allows you to create perfect foam.
This machine has a manual Cappuccino System that allows you to adjust the levels of coffee and milk to create the perfect drink every time. Plus, the machine saves the details of your preferences, so you can always recreate your favorite drinks with ease.
The De'Longhi ESAM3300 Magnifica machine features an easy-to-use control panel. There is no waiting between cups, making it easier to get your caffeine fix as soon as possible. As an added bonus, the drip tray and water tank are removable.
Our Verdict
In a nutshell, the De'Longhi Magnifica ESAM3300 is an automatic espresso machine that has many features. One of the most touted benefits of this product is the automatic brewing system, which takes all of the guesswork out of making a great cup of espresso. 
Additionally, the programming on the machine makes it easier for you to get the perfect drink every time. The easy-to-use control panel also helps to keep your brewing process straightforward.
However, this machine does have some drawbacks. First, it does not have a screen display, so you can't see your drink settings as you're making them. Second, this machine can be a bit pricey for beginners. Despite these drawbacks, the Magnifica ESAM3300 is still a great choice for anyone looking for an automatic espresso machine with a wide variety of features.
The DeLonghi EC685M Dedica Deluxe Automatic Espresso Machine is a high-quality machine that allows you to make your own espresso drinks right at home. It features 15-bar professional pressure, quality construction, and adjustable controls so you can customize your drinks exactly the way you like them. It also includes both single and double-shot filters for versatility. Plus, the sleek design complements any countertop.
This machine has an adjustable frother that allows you to adjust it according to your preference. Plus, the foam and steam levels can be adjusted to suit your preferences. The automatic flow stops feature ensures that your espresso is dispensed at just the right time, and the double drip tray means that you can easily accommodate larger cups or mugs.
Beginners and budget-conscious consumers will appreciate this espresso machine. It has a simple design and is easy to operate. The machine features a built-in cup warmer, so your cups will always be warm and ready for your next cup of espresso. In addition, the machine has an auto-shutdown feature, so it will shut down automatically after use.
Our Verdict 
Finally, the De'Longhi EC685M Dedica Deluxe Automatic Espresso Machine is perfect for those who want barista-quality beverages with the convenience of an automatic machine. This machine is compact in size, making it ideal for small kitchens or apartments. Moreover, it has a variety of features that allow you to customize your drinks just the way you like them. 
You can choose the amount of foam and steam you want, and the double drip tray ensures that even tall glasses or mugs will not overflow. Plus, the results are always consistent thanks to the machine's personal preferences settings. 
Deciding Between Automatic vs. Manual Espresso Machines 
Coffee enthusiasts know that the perfect espresso can make or break the morning. With so many types of espresso machines available, choosing the right one can be difficult. 
Let's explore the differences between these two types of machines to help you decide which will work best for you. 
Automatic Espresso Machines 
An automatic espresso machine provides convenience and ease of use by automating many of the steps required to brew a cup of espresso – but at a cost. 
Automatics are usually programmed with pressure profiles, meaning they are able to adjust the pressure used to brew each shot based on your desired outcome. 
They also come with built-in grinders, making them ideal for grinding your beans just before brewing. 
Overall, this type of machine is easier to use as it does all the work for you. Just fill up the hopper with beans, pick your desired shot strength and other settings, then enjoy.
However, automated machines tend to be more expensive than manual ones and require more maintenance. Since they have more parts that could potentially break down over time. 
Manual Espresso Machines 
On the other hand, manual espresso machines provide an opportunity to become an expert barista in your own kitchen, at a lower cost. It requires more effort to brew each cup than automation. 
With manual machines, users must grind their beans manually and measure out their shots precisely every time they brew. A process that requires practice and patience but yields a better-tasting drink overall due to its accuracy. 
Manual machines also tend to take up less counter space than automated models do. They also require less maintenance since there are fewer parts that can break down over time. 
De'Longhi ESAM3300 Magnifica Vs. EC860M Dedica Deluxe Vs. Eletta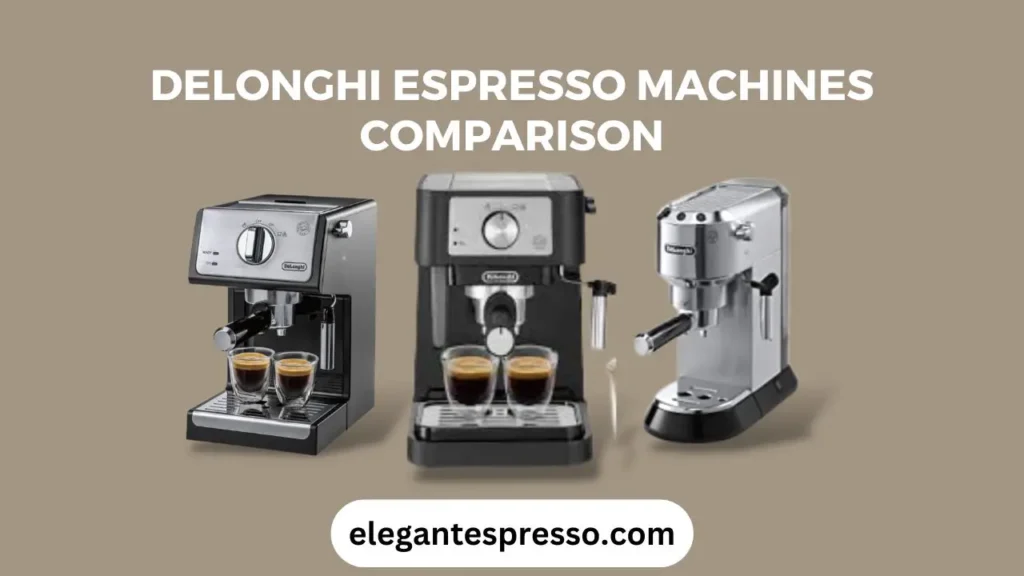 This is one of the best DeLonghi espresso machines on the market. It uses a patented Direct-to-Brew system. That grinds beans fresh with each cup and allows you to customize your coffee strength, temperature, and amount of water used. 
The integrated burr grinder ensures even grinding every time and there's a built-in tamper for tamping down your grounds before brewing. Besides a cappuccino and latte macchiato setting, this machine also offers a hot milk setting. 
With all these features in one package, it's no wonder why this is one of the most popular DeLonghi machines out there. 
The De'Longhi EC860M Dedica Deluxe 15 Bar Pump Espresso Maker is another great option from DeLonghi. 
This model offers 15 bar pressure for maximum flavor extraction from your coffee grounds. And a unique thermo-block heating system that ensures optimal brewing temperatures every time. 
There are two separate thermostats for controlling both steam pressure and water temperature. As well as an energy-saving setting that reduces power consumption by 40%. In addition, you have the option of choosing a single or double shot of caffeine, depending on your caffeine needs.
The De'Longhi Eletta Cappuccino Top Fully Automatic Espresso Machine is perfect if you want an all-in-one solution for your daily coffee needs. 
This model features an automatic cappuccino system with adjustable milk frothing temperature control. As well as four programmable drink settings, espresso, lungo, cappuccino, and latte macchiato. 
Which makes it easy to create custom drinks with just the push of a button. The one-touch control panel also allows you to adjust coffee strength and cup size. While its adjustable nozzle height makes it suitable for almost any cup size or type.
Everything You Need To Know Before Buying a DeLonghi Espresso Machine 
So, you're in the market for a DeLonghi espresso machine. It can be difficult to know where to begin with so many options available. Don't worry! 
I've got you covered. 
Here's everything you need to know before buying a DeLonghi espresso machine, including what features to look for and how to choose the right one for your needs
Types of Machines
The first thing you need to consider when shopping for a DeLonghi espresso machine is the type of machine that will best suit your needs and lifestyle. 
Ask yourself, do you want a fully automatic machine or a semi-automatic one? A manual/lever model? Or maybe an all-in-one combination coffee/espresso maker? 
Features To Look For
After narrowing your selection, you can begin looking at individual features. What kind of milk frother does the machine have? Is it programmable so that you can set up custom brewing parameters? 
How big is the water tank and how often do you need to refill it? Does it have temperature control settings? And is there an adjustable spout so that different cup sizes can fit under the drip tray? 
Maintenance & Care
Finally, remember that even though DeLonghi machines are top-of-the-line, they still require regular maintenance and care in order to keep working optimally. 
Make sure that you read the user manual carefully before operating your new machine, as well as any safety guidelines that come with it. 
Especially, don't forget about descaling. This process should be done regularly in order to remove any mineral buildup from inside the boiler and ensure optimal performance over time. 
Conclusion
Regardless of which model you choose from our list above, rest assured that each of these DeLonghi espresso machines is a top-notch choice. That will provide years of delicious coffees served up with ease thanks to their easy-to-use controls. 
Whether you're looking for a basic model like the Dedica Deluxe or an all-inclusive solution like the Eletta Cappuccino Top Fully Automatic Espresso Machine. You can be sure that whichever machine you choose will serve up delicious espressos day after day.
So go ahead and pick up one today so you can start enjoying cups of freshly brewed espresso right away.
Craft Coffee Spot has a terrific article on the 3420 and they touch on a few alternative aspects that we did not, check it out here