Starbucks was launched in the year 1971 in Seattle, Washington. From its humble origins as a single store, the brand has expanded into a global phenomenon with thousands of outlets worldwide.
Starbucks' signature green siren logo represents high-quality coffee, great customer service, and a dedication to the communities in which it operates. The fundamental aim of the organization is to "inspire and nurture the human spirit – one person, one cup, and one neighborhood at a time."
This goal statement is more than just a catchphrase; it drives everything Starbucks does, emphasizing employee participation and empowerment.
Importance Of Employee Engagement
Starbucks is adamant that its success is directly related to the engagement and dedication of its employees, dubbed "partners." The term "partners" is purposely chosen to emphasize the company's conviction in its workforce's collaborative character.
Starbucks recognizes the importance of fostering a positive and inclusive work environment where partners feel respected and appreciated to increase customer happiness and loyalty.
Employee engagement refers to partners' emotional dedication and passion for their jobs. Engaged partners are more likely to go above and beyond in their contacts with consumers, resulting in higher customer satisfaction and, ultimately, business success.
Starbucks recognizes the importance of employee engagement and greatly emphasizes its comprehensive employee empowerment program known as the "Starbucks Partners Hub."
Understanding Starbucks Partners Hub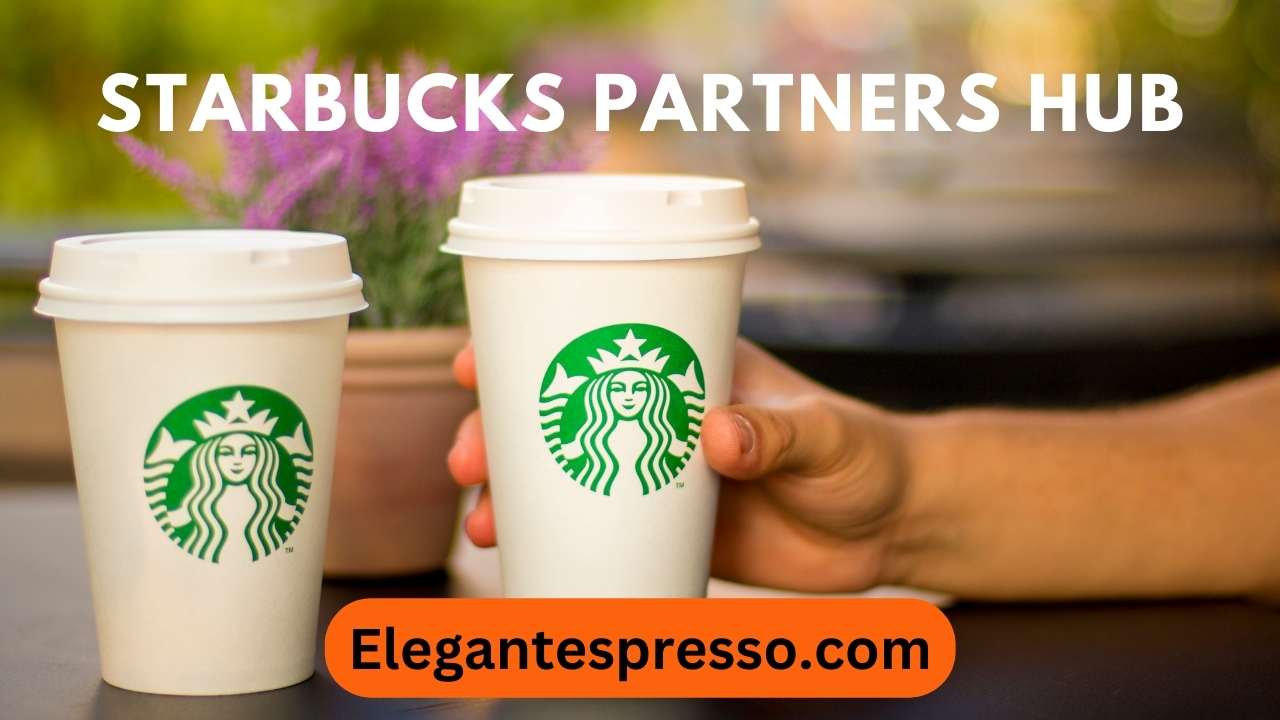 What Is Partners' Hub?
The Starbucks Partners Hub is a rich and dynamic digital platform only available to Starbucks partners. It serves as a comprehensive resource hub for all partners within the organization, providing them with the tools, knowledge, and assistance needed to excel in their professions.
The Partners Hub, launched as part of Starbucks' continued commitment to partner success and well-being, is a testament to the company's commitment to establishing a work environment that supports growth, cooperation, and personal development.
Goals Of Partners Hub
a) Enhanced Communication
The Partners Hub serves as a continuous communication route, ensuring that partners remain in touch with the company, their teams, and one another. Starbucks' commitment to its partners is reinforced by open and transparent communication that fosters a sense of belonging, trust, and mutual respect.
b) Knowledge Sharing
Starbucks understands the importance of timely and accurate information in any organization. Partners can access the latest updates on business policy, product launches, and industry insights via the Partners Hub. This guarantees that partners are well-informed and equipped to provide great customer service.
c) Empowerment And Development
Starbucks believes in developing talent and giving partners the tools and resources to advance personally and professionally. The Partners Hub acts as a portal to various training courses, career development opportunities, and educational materials, allowing partners to define their career pathways inside the organization.
d) Recognition And Appreciation
Starbucks has a core value of recognizing and rewarding partners for their hard work and achievements. The Partners Hub has a special "Recognition Wall" where partners may recognize and celebrate the accomplishments of their colleagues, establishing a culture of positivity and togetherness.
Starbucks Partners Hub Features And Tools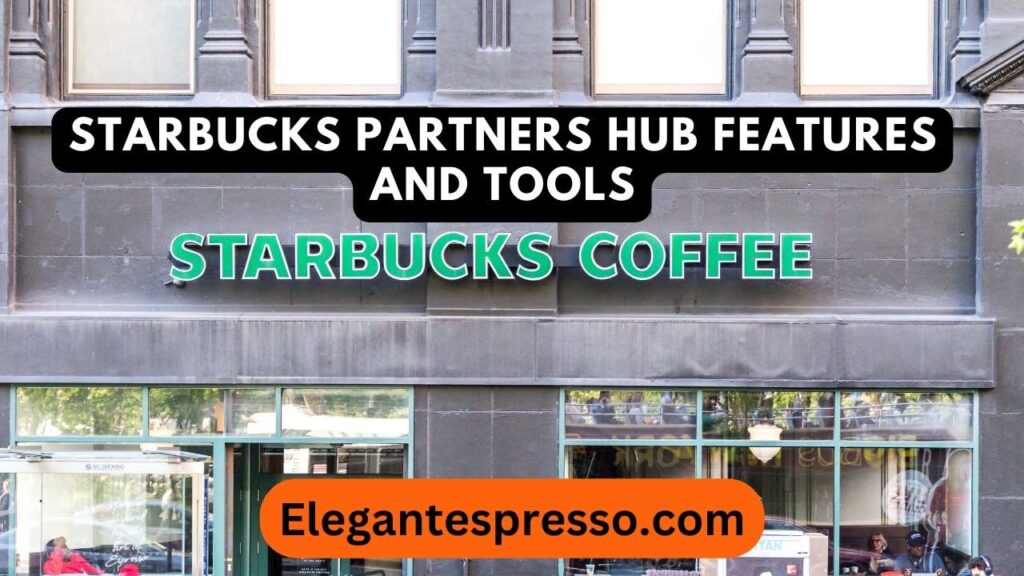 a) Personalized Dashboard
Each partner is welcomed with a personalized dashboard that curates relevant information based on their role, location, and preferences when registering into the Partners Hub. The dashboard is a one-stop shop for updates, news, and notifications related to the partner's tasks.
b) Learning And Development Resources
Starbucks is committed to investing in the professional development of its partners. Partners can access various learning tools through the Partners Hub, including online courses, workshops, and training modules.
These resources cover a wide range of topics, including coffee knowledge and beverage preparation techniques, as well as leadership development and best practices in customer service.
c) Benefits Information
Starbucks' dedication to partner well-being includes a comprehensive and competitive benefits package. The Partners Hub gives partners quick access to healthcare benefits, retirement programs, stock options, and other incentives.
d) Community And Collaboration
Starbucks understands the value of cultivating community and camaraderie among partners. The Partners Hub makes this possible by giving partners access to forums, discussion groups, and virtual events to network, share ideas, and collaborate on initiatives. These online communities encourage collaboration and provide a forum for sharing experiences and best practices.
e) Mobile Accessibility
Flexibility and convenience are vital in today's fast-paced society. The Partners Hub is mobile-friendly, allowing partners to stay connected and involved on the road. Partners can check the latest news, complete a training lesson, or participate in a virtual team meeting from the palm of their hand.
f) Recognition Wall
The "Recognition Wall" on the Partners Hub is a digital space commemorating partners' successes and contributions. Partners can openly thank and appreciate the hard work of their colleagues here, establishing a good and uplifting work atmosphere.
g) Social Events And News
Keeping partners updated about social events, company news, and community projects is critical to maintaining a cohesive and motivated workforce. The Partners point serves as a central point for disseminating such updates, ensuring that partners are always updated on Starbucks' latest advancements.
Starbucks Partners Hub Benefits And Rewards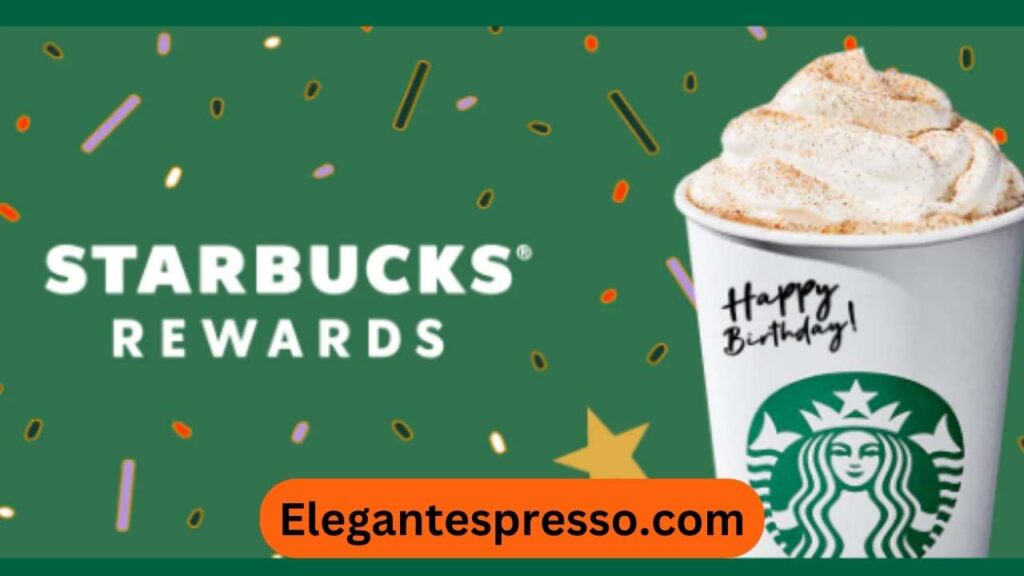 Health And Wellness Programs
Starbucks prioritizes the health and well-being of its partners. The employer provides a comprehensive benefits package that includes medical, dental, and vision coverage. Access to these healthcare benefits ensures that partners and their families receive the care they require to remain happy.
Starbucks invests in mental health support programs and medical benefits, recognizing the importance of addressing mental well-being. Stress can harm partners' overall performance and job happiness, particularly in fast-paced work circumstances.
Starbucks strives to support partners during difficult times and develop a more resilient workforce by giving access to mental health resources and counseling services. Furthermore, the organization encourages partners to participate in physical activities and live healthy lifestyles by promoting wellness initiatives.
Starbucks encourages partners to prioritize their well-being through fitness programmes, wellness tools, and access to fitness facilities.
Stock Options And Retirement Plans
Starbucks believes in rewarding people who contribute to the company's success. Eligible partners may be offered stock options as part of the company's commitment to recognizing its partners' dedication and hard work.
These stock options provide partners a stake in the firm's success, establishing a sense of ownership and alignment with the organization's long-term goals.
In addition, Starbucks allows its partners to participate in the Starbucks 401(k) retirement savings plan. This plan is intended to assist partners in planning their future and give them financial security and peace of mind as they approach retirement age.
Competitive Compensation
Starbucks recognizes the importance of its partners' contributions and provides competitive remuneration packages to ensure partners feel valued and rewarded for their efforts. Partners may get tips, performance-based bonuses, and hourly salaries, providing an additional incentive to excel.
This dedication to competitive compensation is consistent with Starbucks' attitude of treating partners as partners in the firm's success. Starbucks hopes to promote strong dedication and loyalty among its staff by compensating partners fairly and competitively.
Educational Opportunities
Education is essential for both personal and professional development. Starbucks recognizes the transformative potential of education and is committed to offering opportunities for partners to advance their learning and development.
Starbucks College Achievement Plan (SCAP) is a tuition-free program for eligible partners pursuing a bachelor's degree through Arizona State University's online program. Starbucks' dedication to supporting partners' educational objectives, regardless of financial conditions, is exemplified via the SCAP program.
Furthermore, Starbucks partners can access various learning opportunities, such as workshops and courses. These materials appeal to partners' interests and objectives, from improving coffee brewing expertise to strengthening leadership skills.
Starbucks Partners Hub Training And Development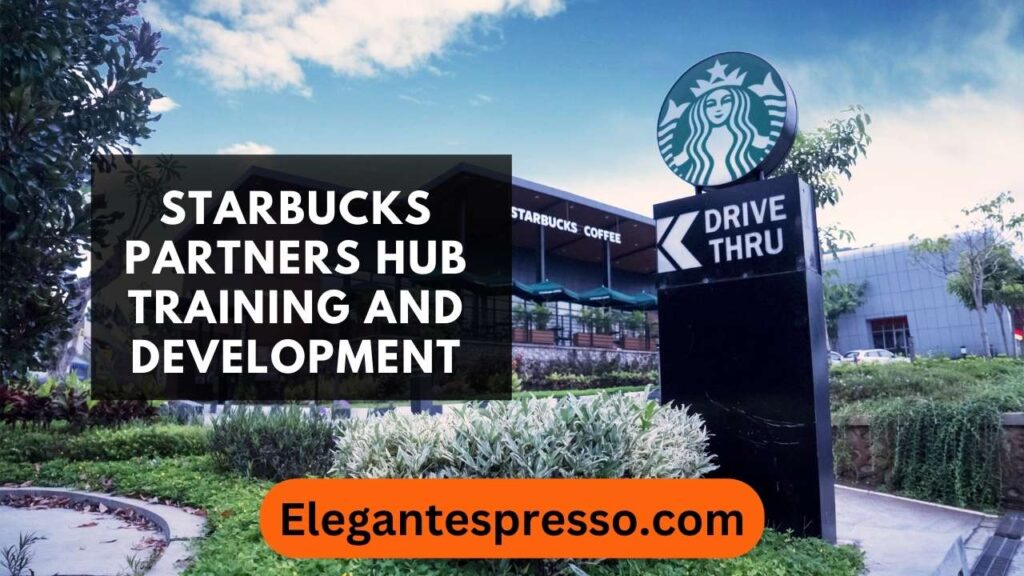 Barista Training
The competence of Starbucks' baristas is a distinguishing feature of the Starbucks experience. These expert partners are in charge of manufacturing and serving high-quality coffee and establishing a welcoming environment for customers.
Starbucks invests substantially in barista training to maintain consistency and excellence in beverage preparation. Baristas go through extensive training modules that include everything from coffee origins and roasting procedures to the art of espresso extraction.
The purpose is to provide baristas with the information and abilities necessary to make the perfect cup of coffee that satisfies Starbucks' high standards. Starbucks barista training goes beyond technical skills and emphasizes the significance of customer service.
Starbucks believes in the value of providing a great, personalized customer experience. As a result, baristas are taught to communicate with customers, anticipate their requirements, and create unique interactions that keep consumers returning.
Leadership Development
Starbucks' dedication to talent development extends to its leadership development programs. The organization believes in grooming leaders from within, recognizing that people who fully understand the company's principles and culture are most prepared to lead it.
Starbucks' approach to leadership development is multifaceted, including mentorship, coaching, and access to leadership programs. Early on, partners with leadership potential are identified and allowed to grow and prosper inside the organization.
These leadership development activities assist not only the individuals involved but also help to construct a solid leadership pipeline for the company's future success.
Career Pathways
Starbucks is committed to offering its partners clear and well-defined career paths. The Partners Hub is critical, offering a guide to various career prospects inside the organization.
The Partners Hub informs partners about several career pathways they might pursue, ranging from entry-level employment to specialized positions and management tracks. It also provides recommendations on the skills and expertise required for each profession, allowing partners to make educated career decisions.
Starbucks thinks allowing partners to take charge of their professional development results in a more motivated and engaged workforce. The company encourages partners to create personal and professional objectives and assists them in realizing their potential through mentorship and assistance.
Workplace Diversity
Creating An Inclusive Environment
A diverse and inclusive workplace is a moral necessity and a strategic advantage. Starbucks recognizes diversity's intrinsic importance and influence on company culture and performance.
Starbucks is committed to providing an inclusive work environment where every partner feels appreciated and valued, in line with its vision of creating a welcome "third place" for everyone. The organization thinks that variety, in all of its manifestations, improves the organization and promotes creativity, innovation, and flexibility.
Starbucks' dedication to diversity is reflected in its policies, practices, and training programs. The company's executive team encourages diversity and ensures all partners have an equal opportunity to grow and flourish within the organization.
Diverse Hiring And Promotions
Starbucks deliberately builds a diverse and representative staff that reflects the communities it serves. The organization attracts and hires people from diverse origins, cultures, and experiences.
Hiring diversity is not confined to entry-level positions. Starbucks believes in promoting from within and, as a result, strives to build a diverse leadership team that can provide several perspectives to decision-making.
Internal promotions are based on merit and potential, ensuring all partners have an equal opportunity to grow in their careers. Starbucks hopes to create a more inclusive and inventive work culture by supporting diversity at all levels of the organization.
Employee Resource Groups
Employee Resource Groups (ERGs) are critical in establishing a feeling of community and belonging among Starbucks partners. These employee-led groups bring together people with similar interests, backgrounds, or experiences.
Starbucks' ERGs offer a supporting network for partners and chances for personal and professional development. These organizations also provide a forum for partners to provide comments, ideas, and initiatives for the company's diversity and inclusion activities.
Starbucks partners benefit from exposure to other ideas and experiences, which enriches the company's culture and fosters a more inclusive and sympathetic work environment.
Community Involvement And Sustainability
Starbucks Ethical Sourcing
Starbucks' dedication to ethical coffee bean sourcing lies at the heart of its global effect. The company recognizes its responsibility to contribute to the long-term viability of the coffee industry while also benefiting coffee farmers and their communities.
Starbucks engages with farmers and suppliers through its "C.A.F.E. Practises" (Coffee and Farmer Equity) program to ensure that coffee is produced environmentally and socially fairly. The program includes stringent standards for coffee quality, fiscal accountability, social responsibility, and environmental care.
Starbucks' ethical sourcing practices extend beyond certification programs; the firm actively invests in coffee farmers' livelihoods by offering technical aid, financial assistance, and community development projects.
Community Service Initiatives
Starbucks is passionate about giving back to the communities in which it operates. The company encourages its partners to participate in community service programs actively, reflecting its basic philosophy of being a good corporate citizen.
The Starbucks Community Service Programme encourages partners to donate their time and talents to address local issues such as environmental protection, homelessness, and education. Starbucks partners establish deep connections with their communities through volunteerism while significantly affecting social and environmental challenges.
In addition, the corporation contributes to disaster relief operations by offering help and assistance to communities affected by natural disasters and catastrophes.
Environmental Sustainability
Starbucks' corporate social responsibility includes environmental sustainability. The company recognizes the significance of reducing its environmental footprint and aggressively addressing climate change.
Starbucks has established lofty sustainability targets, such as lowering carbon emissions, conserving water, and encouraging recycling and waste reduction. As part of these efforts, the company has undertaken several initiatives, including eco-friendly shop designs, renewable energy sources, and sustainable packaging practices.
Starbucks is also committed to reducing its dependency on single-use plastics by encouraging customers to bring their reusable mugs and promoting reusable cups. These environmentally friendly practices are consistent with Starbucks' long-term goal of building a more sustainable future for the coffee business and the earth.
Communication And Feedback
Open Door Policy
Any successful organization relies on effective communication. Starbucks adheres to an "open-door" approach that promotes open and transparent communication between partners and their managers or executives.
The open-door approach encourages all partners to express their ideas, problems, and feedback directly with their supervisors or leaders. This practice develops a culture of trust and openness in which partners can voice their ideas and suggestions.
The open-door policy is not confined to hierarchical connections; it extends throughout the organization, providing leaders at all levels with a sense of accessibility. By encouraging open communication, Starbucks guarantees that every partner's viewpoint is heard and appreciated.
Partner Feedback Surveys
Feedback is an extremely useful tool for pushing progress and making sound decisions. Starbucks conducts regular partner feedback surveys to collect partner feedback properly.
These surveys are intended to gauge partner satisfaction, gather information about the work environment, and identify areas for improvement. By analyzing feedback, Starbucks can discover patterns, address issues, and implement positive adjustments that improve the partner experience.
The feedback survey results are thoroughly analyzed and shared with the appropriate teams and leaders. This practice displays Starbucks' dedication to actively listening to its partners and incorporating their feedback into the organization's plans.
Digital Communication Platforms
In today's digital age, effective communication necessitates fully utilizing technology. The Partners Hub provides a digital communication tool that delivers partners timely updates, news, and announcements.
This centralized communication channel ensures all partners receive vital information simultaneously, fosters inclusion, and aligns with the company's goals and initiatives.
Partners can access the Partners Hub from their PCs or mobile devices, allowing them to stay informed and active no matter where they are. Starbucks' dedication to using technology to improve partner experiences is shown in its digital approach to communication.
Technology And Innovation
Digital Tools For Partners
In today's fast-paced world, embracing technology is critical for remaining competitive and relevant. Starbucks partners have access to a set of digital technologies that are designed to improve operations and increase labor efficiency.
Starbucks' innovative POS systems enable partners to handle transactions swiftly and provide guests with a pleasant checkout experience. These systems also accept mobile payments, allowing users to pay with smartphones.
Mobile Ordering and Payment: Customers can use Starbucks' mobile app to place orders ahead of time and pay with their mobile devices. For partners, this implies faster order processing and shorter wait times, which leads to higher customer satisfaction.
Starbucks Mobile App Features
Starbucks' mobile app is important to the company's digital strategy. Aside from mobile ordering and payment, the app has several features that benefit both partners and customers.
The software allows partners to track and redeem their awards for free beverages or food items. This feature encourages partners to utilize the app and participate in the rewards program.
Partners can instantly identify nearby Starbucks stores using the app's store locator tool. This is especially useful for couples who travel or work in different regions.
The app gives nutritional information for Starbucks menu items to partners who value healthy choices. This functionality enables partners to make educated food and beverage purchase decisions.
In-Store Technology
In addition to its digital activities, Starbucks invests in in-store technology to improve the customer experience and assist partners in their everyday operations.
Many Starbucks locations have digital menu boards that may be updated in real-time to show the most recent offerings and promotions. Customers benefit from an exciting and dynamic menu experience thanks to this technology.
Starbucks invests in cutting-edge coffee brewing equipment to ensure that partners can consistently provide customers with high-quality coffee beverages.
The Impact Of Starbucks Partners Hub
The Starbucks Partners Hub has proven to be a revolutionary and powerful tool for cultivating a partner involvement, empowerment, and growth culture.
The Hub has transformed how partners interact with Starbucks by giving them access to many resources, training, and support. Thanks to the Partners Hub, Starbucks partners have discovered the advice and inspiration they need to fulfill their greatest potential.
Partners have utilized the site to explore new career opportunities, improve their abilities, and interact with peers. This increased sense of participation and dedication has benefited Starbucks' overall performance and success as a company.
Starbucks' partners will have a lot of opportunities in the future as the company evolves and expands. Starbucks partners will play an important role in establishing the company's legacy due to the company's commitment to innovation, sustainability, and community engagement.
Partners will continue to have access to new opportunities, tools, and support through the Starbucks Partners Hub, allowing them to prosper professionally and personally. Starbucks is ready to give the direction, recognition, and empowerment needed to create a bright and fulfilling future for all its partners as they embark on their journeys of growth and achievement.