If you're thinking to buy a budget-friendly yet durable espresso machine that can make a latte, cappuccino, and espresso. Then without thinking about anything else you should go for any Delonghi Stilosa espresso machine. 
But as we know, not everything sits perfectly. This machine also has some minor flaws. After using it I realized machines create some noise during the brew cycle. Moreover, it may take a little extra time to steam the milk.
Now you might be thinking how much extra time?
Well, I felt it only takes only 30 seconds extra. If you've used a Delonghi Magnifica espresso machine it takes only 35 seconds to steam the milk. In contrast, Delonghi Stilosa takes around 2-3 minutes to brew a final shot. 
Meanwhile, if you compare these best Delonghi espresso machines with the price, then you can understand how beneficial this machine can be.
So, Let me share with you a complete review of the Delonghi Stilosa Espresso Machine. I'll try to review some other Delonghi Stilosa machines so that you can get a better idea about them. 
Delonghi Stilosa Espresso Machine Review – Manual EC260BK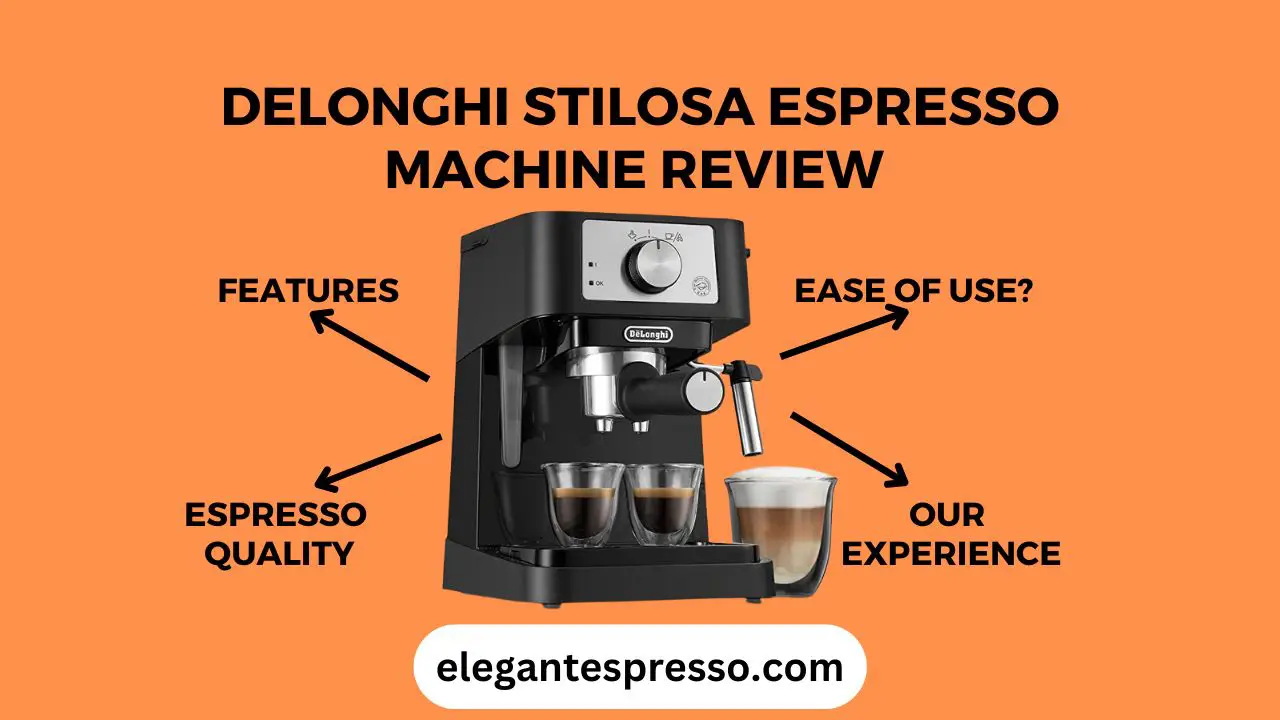 My Verdict
Overall, This Delonghi Stilosa Espresso Machine is a great choice for anyone looking for a simple and compact machine. It's easy to clean and comes at a very low cost (under $150), making it ideal for those on a budget.
Plus, it can brew lattes, cappuccinos, and espressos with optimal pressure and either single or double shots. The machine is also built to last, with a strong construction that can withstand repeated use.
However, along with its features, it has weak steaming pressure, yet creates a little brewing noise (not too much though).
For those who care for money and can adjust to these issues, the machine is perfect for them. However, if you value features and hot espresso shots, then you should not consider this machine. Rather check out other best espresso machines for good espresso shots. 
Comparative Analysis and Test Results
Espresso Brewing Quality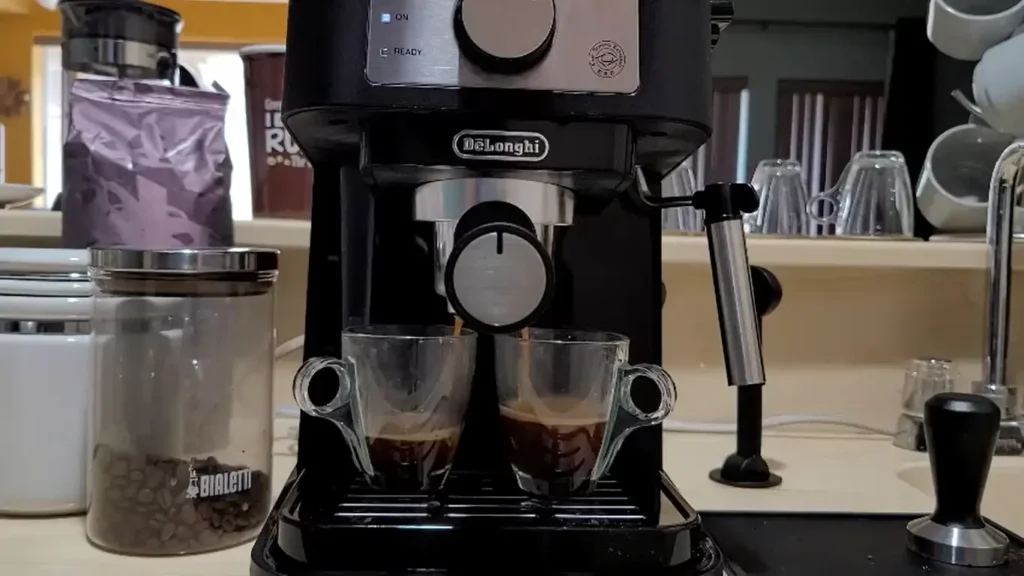 The Delonghi Stilosa Espresso Brewing Quality machine is a quality espresso maker for those who want to make a great shot of espresso without having to fuss with a lot of adjustments.
This machine has limited adjustability, so it's perfect for those who want a quick and easy espresso without having to worry about making any adjustments. The crema was thin on our shots, but by the adjustment of water, you can make a good espresso shot.
Ease of Use
If I talk about its useability, I can say it's not a high-performing machine but you can call it an average performer. The Delonghi Stilosa machine has a simple interface and is perfect for those who want to make a quick single or double espresso.
The tank is easy to fill, and the adjustable drip tray ensures that your drink will fit comfortably in any mug or cup. However, keep in mind that it does take a little time to brew a final shot.
So if you're in a hurry, this machine may not be right for you. Overall, though, the Delonghi Stilosa is a great option for anyone looking for an affordable and reliable espresso machine.
Cleaning Process – How to clean Delonghi Stilosa?
Even if you're a new user or an expert brewer but just want to try Delonghi Stilosa, the cleaning process works similarly to other machines. However, as this is a compact machine, it is easy to clean.
The best part is, for this machine you don't need to clean it weekly or monthly. The Delonghi brand recommends cleaning the machine every 200 shots. 
For DeLonghi Stilosa Espresso Machine, it's important to begin by removing the portafilter, filter basket, and dosing funnel before washing all parts with water, dish soap, and a non-abrasive damp cloth. The process hardly takes 10 minutes.
Why does proper cleaning matter? Well, dirty espresso machines reduce flavor and can cause degradation of the machine over time. With very minimal effort and a few simple steps, however, your DeLonghi Stilosa Espresso Machine can remain clean for many cups' worth of delicious espresso shots.
Milk Quality (About Milk Frother and Steam Wand)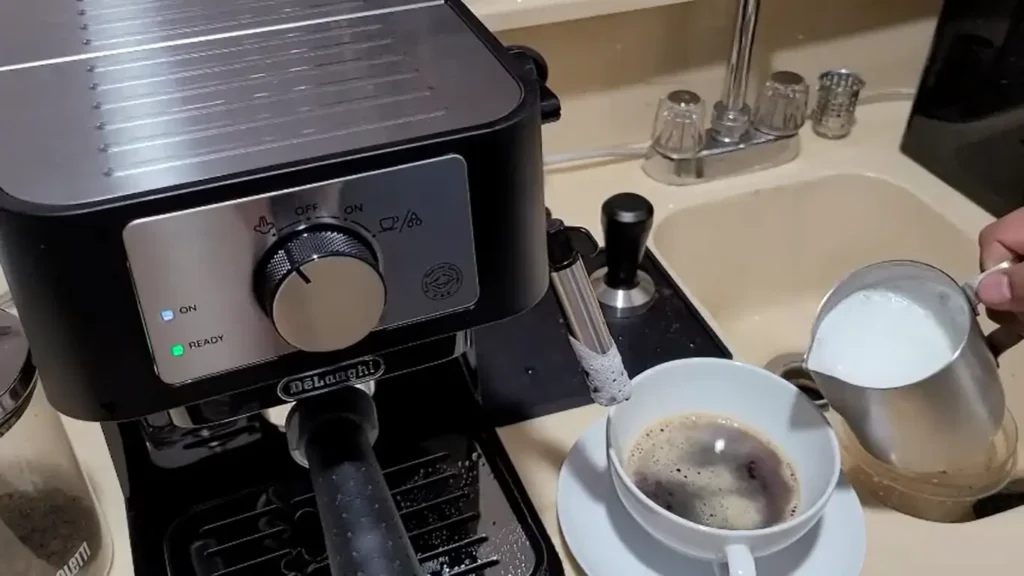 Are you a fan of rich, creamy espressos? Is it convenient to make coffee drinks at home as well? If so, you need to check out the DeLonghi Stilosa Espresso Machine.
This top-quality machine lets you make cafe-style drinks right at home, quickly and easily. With the manual milk frother included in the DeLonghi Stilosa, you can make tasty cappuccinos, lattes, and flat whites. 
Plus, the Steaming function instructions ensure that your drinks come out perfectly every time. The only downside to the DeLonghi Stilosa is that it does take a little bit of time to heat up the milk. But once it's hot, this machine produces amazing results.
Watch Video Review: Delonghi Stilosa Espresso Machine EC260BK
Should You Buy Delonghi Stilosa Espresso Machine?
Overall this is a good espresso machine. But if you prefer high-quality espresso and have some budget then you should try other Delonghi espresso machines like Delonghi Magnifica or Dedica. 
But if you're looking for a cheap yet easy-to-use and easy-to-clean machine then this machine is recommended. Especially if you're a beginner it's worth trying. 
Moreover, you'll also want to consider the number of members using it. If you're a single user then it's a better option. But if you want to use it for a large family then it will consume a lot of time making each cup of espresso. 
At the same time, if you were looking for commercial use, I strongly do not recommend this machine for your business. Because this machine is only designed to consider single or double shots users. However, for commercial purposes, you should try multipurpose espresso machines. 
My Verdict
The machine is extremely criticized by many of its users. And I also found EC230.BK is not as good as EC260BK. The Delonghi Stilosa EC230.BK gives a weak and inconsistent espresso.
While the portafilter was also creating some issues while removing and insertings. At the same time, the milk frother and steam wand are unable to provide quality milk and foam. 
Features Explained – Delonghi Stilosa Manual Espresso Machine Review
The DeLonghi Stilosa EC230.BK is a compact and stylish espresso machine that can make two cups of coffee at once. It has a removable water tank, so you can easily refill it, and a milk frother to create creamy foam for cappuccinos and lattes.
The 15-bar pump ensures rich, full-flavored espresso every time, and the steam arm lets you froth milk for specialty drinks. Plus, the stainless steel design is both elegant and durable.
The DeLonghi Stilosa EC230.BK is an affordable coffee maker that comes with a few key features. The filter holder is for ground coffee, and the removable drip tray makes it easy to clean. It also has an anti-drip system, so you don't have to worry about any messes. 
Delonghi Stilosa Espresso Machines EC260BK vs. EC230BK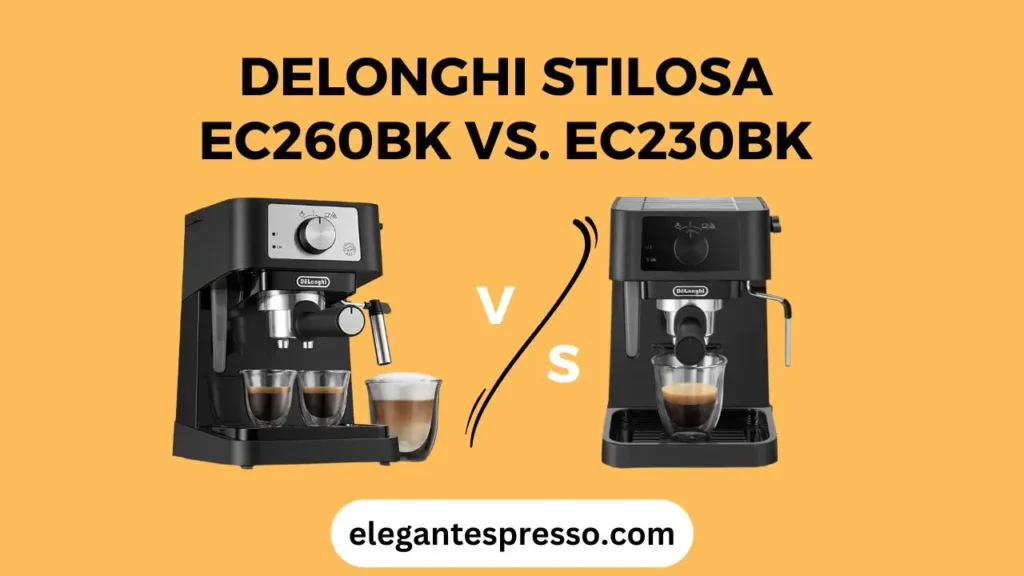 When it comes to the espresso machines from Delonghi, two popular options are the EC260BK and EC230BK. Both of these machines offer great features that make it clear why they stand out from other brands. But which one is better? 
I would recommend The EC260BK is slightly cheaper, and also provides additional features. The EC260BK has a good brewing system and creates rich espresso shots and thick crema. While the EC230BK is more expensive, many users are not satisfied with this machine including me. 
The battle between EC260BK vs. EC230BK wins the Delonghi Stilosa EC260BK espresso machine which is a much more versatile, compact, and durable manual machine. 
How to Use Delonghi Stilosa?
If you've recently purchased a DeLonghi Stilosa coffee machine, you're already well on your way to making the perfect cup of coffee every time. Here is a quick guide to using this amazing coffee maker. 
Getting Started 
The first step is setting up your DeLonghi Stilosa. Start by plugging it in and filling the tank with fresh water before turning it on. 
Once it has powered up, place a cup beneath the spout and press down the handle at the top of the machine until steam begins to emit from it. This will cause water to be heated in order to make your espresso.
From there, you just need to wait for your drink to brew. Depending on how much espresso you desire, this could take anywhere from 60-90 seconds. 
Making Different Drinks 
One of the best things about owning a DeLonghi Stilosa is its versatility. You can use this machine to make different drinks like cappuccinos or lattes. To make these drinks, start by adding steamed milk into a cup before pouring espresso into it. 
Then add in any syrups or creams that you would like for flavor before stirring everything together. Your finished product should be something akin to what baristas would serve at your local cafe.
Cleaning Up
After each use, be sure to clean up any grinds or residue that may have been left behind. In order for your next cup of joe to come out as perfect as possible. You can do this easily with some hot water and dish soap. 
Just run some through the machine and wipe away any remaining residue with a damp cloth or sponge. You should also descale your DeLonghi Stilosa every 200 shots by running white vinegar through it. This will help keep it functioning properly while removing any built-up residue over time.